I originally thought today I'd give in to my love of tacky halloween and host a halloween tea party. But then I got distracted by classy things and went a completely different direction.
These Vintage German Beer Coasters Orange Yellow Set by halfpintsalvage on Etsy were the inspiration. They were right there in the handpicked items waiting to turn my plans on their head.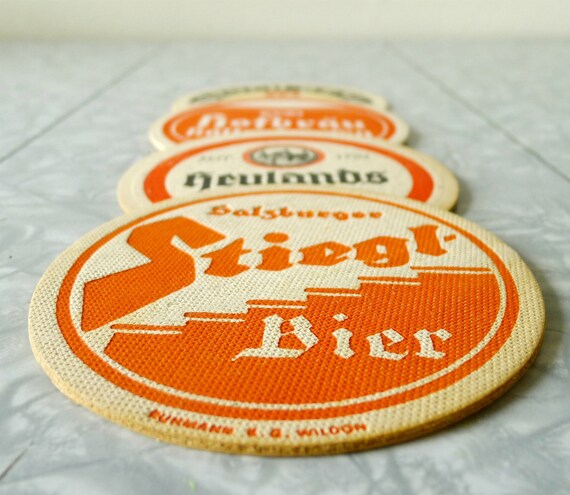 You might be thinking to yourself that beer isn't very classy, but if you have that opinion you probably don't belong here.
A Fall harvest-themed party with clothing, accessories, decor, and favors.
Treasury tool by Red Row Studio.
I started with the clothing this week because I really love the color of the pumpkin dress. I'm not sure the shape of the dress would work on my figure but the vintage neckline is great. The headband is technically for a baby, but there's no reason babies can't go to this party. Or, if you're like me, and are enjoying the part of your life where you don't have to share your toys with children, you could use those pretty felt flowers on a bracelet. They look super cute so close to the ring!
I know I kind of buried the teapot in the middle of this collection, but I hope you don't overlook it. I think it's so beautiful. It's more interesting than a lot of the ones I own and it's such a pretty color. I love the black and white with the peach.
I've also included some candles, Guinness soap, and scented pumpkins because, to me, fall is all about comforting smells. The scents of spring, summer, and winter (after Christmas) are a lot less curated than those of fall. Fall scents do a great job of making you want to curl up with a partner or friends and enjoying cool air and returning to the inside.