After spending most of my day working at a computer and a good portion of my evening glued to a book (usually on kindle), I often find myself looking for something a little more mindless to relax. The problem with most TV is that it's so mindless that I can really split my attention between the TV and the Internet. I think that's a lot of the reason why I love the Nate Berkus Show. It's too visually interesting not to watch so I pay a lot of attention without having to think too hard about it. Yesterday, I was catching up on DVR and I was so inspired by his asparagus green + navy black + bronze color palette at the end of the show. It was just so beautiful together, and I think green + bronze + cream makes a great holiday palette so here we are with our first Thursday Tea Time of the Christmas season and a great all-etsy tablescape for an asparagus green and bronze holiday party!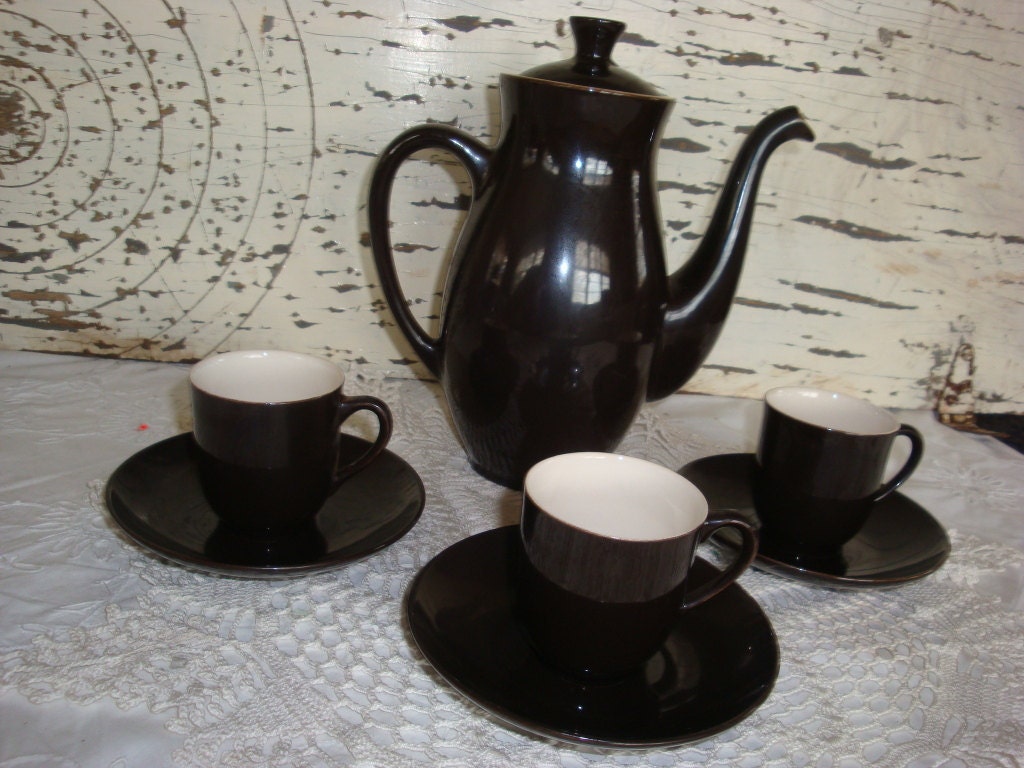 I decided on a simple coffee pot for this week's party. This Vintage Brown Coffee Pot set by JSsJunk on Etsy is a great place to start because the bronze is so beautiful. I also really prefer a cup that's white on the inside even if it has a dark outside. Maybe that's weird, but I've been on a hot apple cider kick lately and it's weird to drink apple cider that looks like coffee in our black cups so the cups we have that have white insides have been getting extra attention.
For the rest of the table setting, I went with a green and bronze palette with some creams thrown in where I could.
My thought is that the incense burner could burn a subtle Christmas scent and the felted craspedia could sit inside the wreath and add some height. I love craspedia so much and it's very pretty as a felted fake flower. I almost included some felted acorns too. The wreath I found is absolutely gorgeous too. I love the texture (and price) of burlap and it's so easy to glam up. That gold looks great against it.
I also found a little earthen vase, a beautiful table runner, and a no-knead bread baker that beautifully combines all of the colors.
I thought I'd include the broken china mosaic tiles and the dark bronze leaves to sprinkle in the center of the table and/or at each place setting. The gift tags would make great place cards!
I'm really excited about this holiday party. I really want to host one (or two or three) holiday parties this year for various groups of people we've been trying to gather at our house. I'm starting this weekend with a movie and football marathon with Kyle and our best friend Kevin. Plus, it's the winter festival of trees at my museum this weekend. Hopefully, I can score some great decorations through the raffles!