This week I started my tea party with a dainty pearl and metal Have a Tea Necklace Antique Silver Teapot with by PolliniAtelier.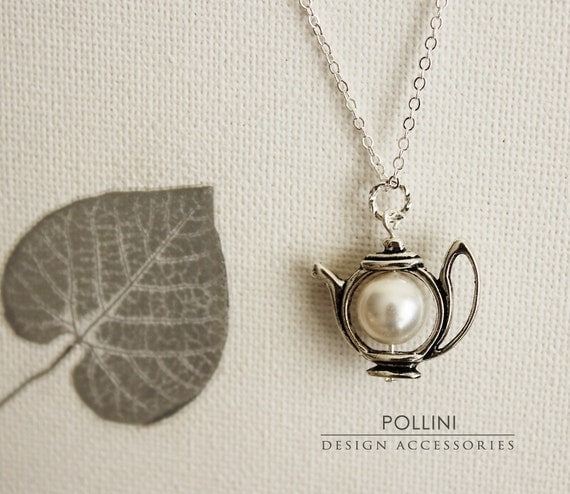 This got me on a chrome kick so I started planning away and eventually decided all of that chrome monochrome was just too much so I added some bold reds!
I love the idea of having a really monochrome table setting and centerpieces and then having really dramatic red decorations around the room, but off the table. I also have a really delicious recipe for an "all the reds soup." It's really yummy but I kind of hate the name. Maybe I could get over that for a chrome and red tea with soup and sandwiches.
I think the steampunk honey bee flask is maybe my favorite item in the treasury, though I do love the wreath at the end! (And we're in the market for a wreath!) It's so shiny and I really like bees.
I also think it would be great to take that poinsettia centerpiece (or a couple similar ones) and put it in the vintage metal wire standing laundry basket. Wouldn't that be beautiful!? Added bonus: poinsettia's are so poisonous to pets and the laundry basket would keep it off the group away from the dog and off of a table away from the cat.
We're putting up our Christmas tree this weekend, can you tell I'm in the holiday spirit?